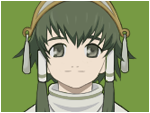 Unfortunately high quality rips of Ion skit faces don't exist. I don't know if it's because they're impossible to get or no one likes him or what. Whatever the case, me and my friends over at the Mizuho BBS like him enough to go searching for some. Of course, we didn't find any. So me and my buddy Lloyd took it upon ourselves to uh... do a lot of work to get them.
What we did was, Lloyd found some YouTube videos of the skits and took screenshots. Of course the quality on these were absolutely horrid so I cleaned them up massively.
I know technically I didn't draw these, but I thought I'd put them up anyway. I know there are other people out there that have been wanting these so you can use them however you like!
PS: I might be doing some facial expressions of my own for him in the future! I love Ion to death so I would just love to contribute to his face set.